Mountaineer Field Seating Chart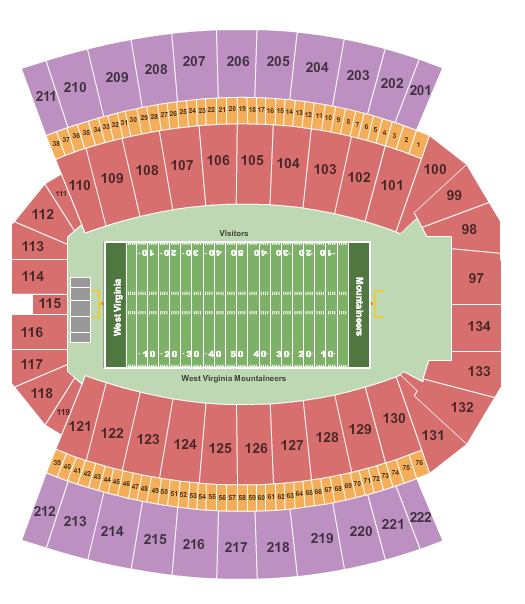 NOTE: Seating configurations can change depending on the type of event. Always check the individual event seating chart when selecting your tickets.
As cliche as it may sound, each fan has an unobstructed view of the playing field and there's not a bad seat in the house. There are plenty of restrooms, concession and souvenir stands that are available to make the fan enjoy the amenities.
Club Seating
The Touchdown Terrace Club is located behind the North endzone and this section is the most expensive in the entire stadium. With a premium price, this section offers chair-back seating, access to the club lounge, concession options, and private restrooms.
Sidelines
The West Virginia Mountaineers sideline is located in front of sections 124-127. Where else, the opposing team's sideline is in front of sections 104-107.
What are the best seats at Mountaineer Field at Milan Puskar Stadium?
If you're looking for a great view on the 50-yard line you'll want to sit in sections 105-106 or 125-126. They're right behind the team benches on the lower level keeping you close to the action and they are not as expensive as the sideline seats.
Secure your seat today by purchasing your tickets. Visit the Mountaineer Field schedule to get started.
To view the ticket & refund policy please read the ticket information page.